Training Classes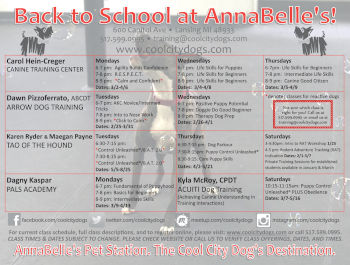 Not sure which class is right for you? Call us or complete our training survey and we'll call you!


REGISTER NOW: Select trainer below to view available classes and press the "Add to Cart" button OR call 517.599.0995.

For the safety of all participants, we require proof of current vaccinations for DHLPP & rabies (if old enough) on the 1st day of class.
CANINE INFLUENZA VACCINE OR SIGNED WAIVER NOW REQUIRED FOR ALL TRAINING CLIENTS. DOWNLOAD WAIVER HERE.
Training Classes


Select a trainer below to view their available classes:
| | |
| --- | --- |
| AnnaBelle's lead trainer, Carol Hein-Creger, is the owner and director of the Canine Training Center, has trained professionally since 1979, and is a recognized master at her craft. Carol's training method focuses on operant conditioning and positive reinforcement and her philosophy is grounded in consistency, fairness, and building a relationship with your dog. | Dawn Archer Pizzoferrato, ABCDT uses scientifically proven "clicker training" and "free shaping" to teach your dog all the basics plus other fun, useful behaviors. She uses operant conditioning and positive reinforcement, without correction, to help you and your dog build a bond of trust and respect. Dawn, an experienced Nose Work Instructor, also offers her popular Your Dog Nose Fun! series of Nose Work classes and TDI® (Therapy Dog International) classes. |
| Karen initially started training and competing in formal obedience, but she has competed successfully in a wide variety of canine sports. Karen currently has 70 titles on 9 different dogs in Obedience, Rally Obedience, Agility, Weight Pull, Lure Coursing, Drafting, and Freestyle. | Dagny Kaspar fell in love with dog training at a young age and has worked with dogs throughout her life. She learned the ropes of effective training through assisting Carol Hein-Creger and uses operant conditioning to create a positive, fun training environment for you and your dog. Her #1 goal is for you to learn to effectively communicate with your canine so training makes sense to both of you. |
| Kyla is a Certified Professional Dog Trainer (CPDT) who specializes in puppy raising and obedience. She has worked with a variety of ages and breeds, as well as therapy and service dogs. Kyla uses research-based force-free methods and clicker training. Her work focuses on empowering clients with clear and systematic instruction. Kyla is an AKC Canine Good Citizen Approved Evaluator and is pursuing a PhD at Michigan State University. | |