Canine Good Citizen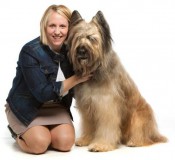 We offer Canine Good Citizen® classes and certification. Wondering what CGC is all about? At AnnaBelle's, we think it's a great way to teach responsible dog ownership, to help build the relationship between owner and dog, and help to improve the image of our beloved canine citizens.

As explained by the American Kennel Club, "CGC is a certification program that is designed to reward dogs who have good manners at home and in the community. The Canine Good Citizen Program is a two-part program that stresses responsible pet ownership for owners and basic good manners for dogs. All dogs who pass the 10-step CGC test may receive a certificate from the American Kennel Club. * * * In a little over one decade, the Canine Good Citizen Program has begun to have an extremely positive impact in many of our communities. This is a program that can help us assure that the dogs we love will always be welcomed and well-respected members of our communities."
Learn More:
Canine Good Citizen
Select an item below for more information:

Carol Hein-Creger of the Canine Training Center offers this Intermediate class for owners that want to advance their dog's training beyond the basic level. Off leash skills are introduced as well as hand signals, distance control and proofing responses around distractions. Appropriate for dogs that have completed a beginning level class or its equivalent.  Class size is limited.
REGISTRATION REQUIRED BY NOON ON THE FIRST DAY OF CLASS. IF YOU WANT TO REGISTER AFTER NOON ON THE FIRST DAY OF CLASS, PLEASE CALL 517.599.0995 FOR AVAILABILITY AND REGISTRATION.
Thursdays, 8-9 p.m. Six weeks: 11/8-12/20* *no class 11/22
Price:

$
139.00
Sorry- Product Out of Stock or Class is Full