Canine Good Citizen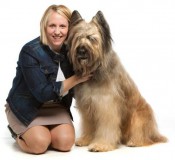 We offer Canine Good Citizen® classes and certification. Wondering what CGC is all about? At AnnaBelle's, we think it's a great way to teach responsible dog ownership, to help build the relationship between owner and dog, and help to improve the image of our beloved canine citizens.

As explained by the American Kennel Club, "CGC is a certification program that is designed to reward dogs who have good manners at home and in the community. The Canine Good Citizen Program is a two-part program that stresses responsible pet ownership for owners and basic good manners for dogs. All dogs who pass the 10-step CGC test may receive a certificate from the American Kennel Club. * * * In a little over one decade, the Canine Good Citizen Program has begun to have an extremely positive impact in many of our communities. This is a program that can help us assure that the dogs we love will always be welcomed and well-respected members of our communities."
Learn More:
Canine Good Citizen
Select an item below for more information:

Buddy's PALS (Pet Assisted Learning Service) teams go into Lansing area schools to help children in our educational system at all grade levels with reading. Children also develop positive relationships with animals and learn the critical skills needed to care for our companion animals: compassion, responsibility, respect, and kindness.  The Buddy's PALS prep class reinforces the basic skills required for the Buddy's PALS test, including sit, stay, down, leave-it, loose leash walking, along with more advanced skills to prepare for the school environment, including interacting with children and adults.  A beginner or basic skills class is recommended before taking this class.  Teams will also learn the skills to pass the Canine Good Citizen test. Learn more about Buddy's PALS on facebook!
Wednesdays, 6-7 p.m. Six weeks: 4/7-5/12

*Social distancing practices will be followed.  Masks are required for indoor classes.
ATTENTION:
All students must fill out a training survey.
Please provide proof of vaccinations on or before the first night of class.
Price:

$
159.00
Sorry- Product Out of Stock or Class is Full