Canine Good Citizen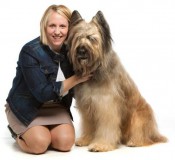 We offer Canine Good Citizen® classes and certification. Wondering what CGC is all about? At AnnaBelle's, we think it's a great way to teach responsible dog ownership, to help build the relationship between owner and dog, and help to improve the image of our beloved canine citizens.

As explained by the American Kennel Club, "CGC is a certification program that is designed to reward dogs who have good manners at home and in the community. The Canine Good Citizen Program is a two-part program that stresses responsible pet ownership for owners and basic good manners for dogs. All dogs who pass the 10-step CGC test may receive a certificate from the American Kennel Club. * * * In a little over one decade, the Canine Good Citizen Program has begun to have an extremely positive impact in many of our communities. This is a program that can help us assure that the dogs we love will always be welcomed and well-respected members of our communities."
Learn More:
Canine Good Citizen
Select an item below for more information:

Dawn Pizzoferrato, ABCDT introduces the Canine Good Citizen behaviors! This includes advanced loose leash walking, greeting a stranger, walking through a crowd, polite behavior around other dogs, and much more. For dogs of all ages. Prerequisite: Doggie Do Good Beginner Obedience or equivalent. CGC test given on last night of class.

Wednesdays, 8-9 pm. Six weeks: 11/17-12/22

*Class size is limited. Social distancing practices will be followed.  Masks required for indoor classes.
ATTENTION:
All students must fill out a training survey.
Please provide proof of vaccinations via facsimile or email before the first night of class.

*Due to high demand, AnnaBelle's does not offer refunds on classes after the class has started*