AnnaBelle's Press Box
Recent news articles featuring AnnaBelle's: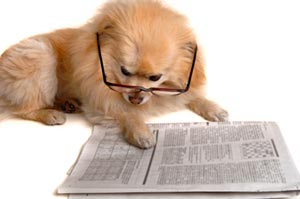 AnnaBelle's Pet Station expands expands pet play areas and training services, adds four jobs ... Read More in Lansing Capitol Gains.
Cool City, Cool Business: A Chat with Annabelle's Pet Station by Jess Knott on the Lansing Collective Blog: "I asked "What's your favorite community-engaged business?" and Angela Brown of @coolcitydogs answered. The ensuing conversation made me laugh and, more importantly, educated me about Annabelle's Pet Station, a Lansing gem I knew little about." ...
Read about AnnaBelle's Day Care Depot, a home away from home for dogs in #lovelansing on our blog!
Listen to AnnaBelle's trainer, Dawn Archer Pizzoferrato, ABCDT, ANWI, of Arrow Dog Training talk about the clicker training method, its origin and versatility on Mid-Michigan P.E.T.S. (Pet Expert Talk Show) on WILS AM 1320 (part 2, part 3).
Listen to Carol Hein-Creger of the Canine Training Center talk about dog behavior and training on In Her Shoes Radio, Lansing Women's Talk Radio Show on WJIM AM 1240. Click on Episode 44 from September 26th...
Listen now
Erinn Hadley of Encore Handling and Training talks about developing a better relationship with your dog and building your dog's confidence through agility on Mid-Michigan P.E.T.S. (Pet Expert Talk Show) on WILS AM 1320...
Listen now
Sometimes after a long day of work, Allison Cosgrove doesn't feel like cooking. But when the 30-year-old Lansing resident walks in the door to a jubilant welcome from Santo and Ohana, her two dogs, it's hard to leave them behind again and head to a restaurant...
Read full article
Downtown Lansing now has a place for the four-legged members of your family to spend the day: the Day Care Depot at AnnaBelle's Pet Station. The idea of the Day Care Depot is to help socialize dogs...
Read full article
They've been working on it for a long time, but the three women developing AnnaBelle's pet station in Downtown Lansing are close to putting up a red ribbon. AnnaBelle's owners plan to host the grand opening of their dog daycare March 30...
Read full article
Metropolitan areas across the country are increasingly catering to canines, and Lansing is no exception. Following the lead of dog-friendly cities such as New York, Chicago and Los Angeles, Lansing is putting out the red carpet for pups and their owners...
Read full article
Honigman Miller employee and dog lover Ann Andrews couldn't find one place to leave her dogs for training and care during her long workday in downtown Lansing, so she and fellow Honigman employees Angela Brown and Robin Hiar, decided to build AnnaBelle's doggie daycare...
Read full article