Dogs Downtown … One More Reason Lansing is a Cool City.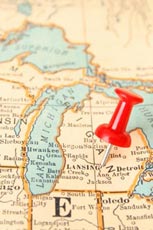 AnnaBelle's mission is to make dog ownership easy, fun and fulfilling so that everyone who lives and works in the Greater Lansing community has the opportunity to enjoy the health and family benefits of owning a dog. AnnaBelle's is committed to providing convenient opportunities for Lansing-area dogs to become good canine neighbors and citizens.
AnnaBelle's is unique in the Lansing area, offering dog training and training classes for dog owners, puppy training and socialization, expert dog grooming, group play doggie day care, dog-related events and activities, and a pet boutique - all in our convenient downtown location.
AnnaBelle's made a choice to be part of the Lansing community… and AnnaBelle's is dedicated to doing our part to make Lansing even better! AnnaBelle's is dedicated, in particular, to animal rescue and you'll find us regularly supporting local rescue and shelter organizations such as the Ingham County Animal Control and Shelter, Voiceless-MI, Capital Area Humane Society, and Animal Placement Bureau. We enjoy raising funds and volunteering our time to help homeless animals in need in our community and sharing our mission of responsible dog ownership with the community.
We also support many Lansing area charities and nonprofits including the Children's Trust Fund, the Ronald McDonald House of Mid-Michigan, the Women's Center of Lansing, the Lucky Fund, Child & Family Services, the Downtown Neighborhood Association, the South Lansing Community Development Association, REO Art Ally, the MSU Student PRSSA, the Lansing Art Gallery, the Kitten Nursery, the Friends of Ferris Park and many more! We love Lansing and hope you do too!
AnnaBelle's was honored with the Corporate Humanitarian of the Year Award from Ingham County Animal Control and Shelter. Read more about the ICACS Humanitarian Awards on the AnnaBlog!